GreenPlanet's Massive encompasses everything about a quality-focused bloom formulation. Unlike other blooming additives, which typically contain nothing more than soluble mineral salts, Massive is specially blended with an array of elements like L-form amino acids, natural sugars, and a balance of micro and macronutrients specifically selected to assist budding plants with the production of large, healthy flowers.
Comprehensive Results
With scheduled use of Massive in the garden, growers can expect an increase in flower size, aromatics, essential oils, chlorophyll content, photosynthesis, CO2 utilization, proper NPK ratios, cell expansion and content, cell wall thickness, floral components, and resistance to stressors. Furthermore, the components in Massive work aggressively to promote, as well as transport vital fluids and cell building materials to the flower sites. This creates truly impressive stacked flower clusters, full of aromatic essential oils.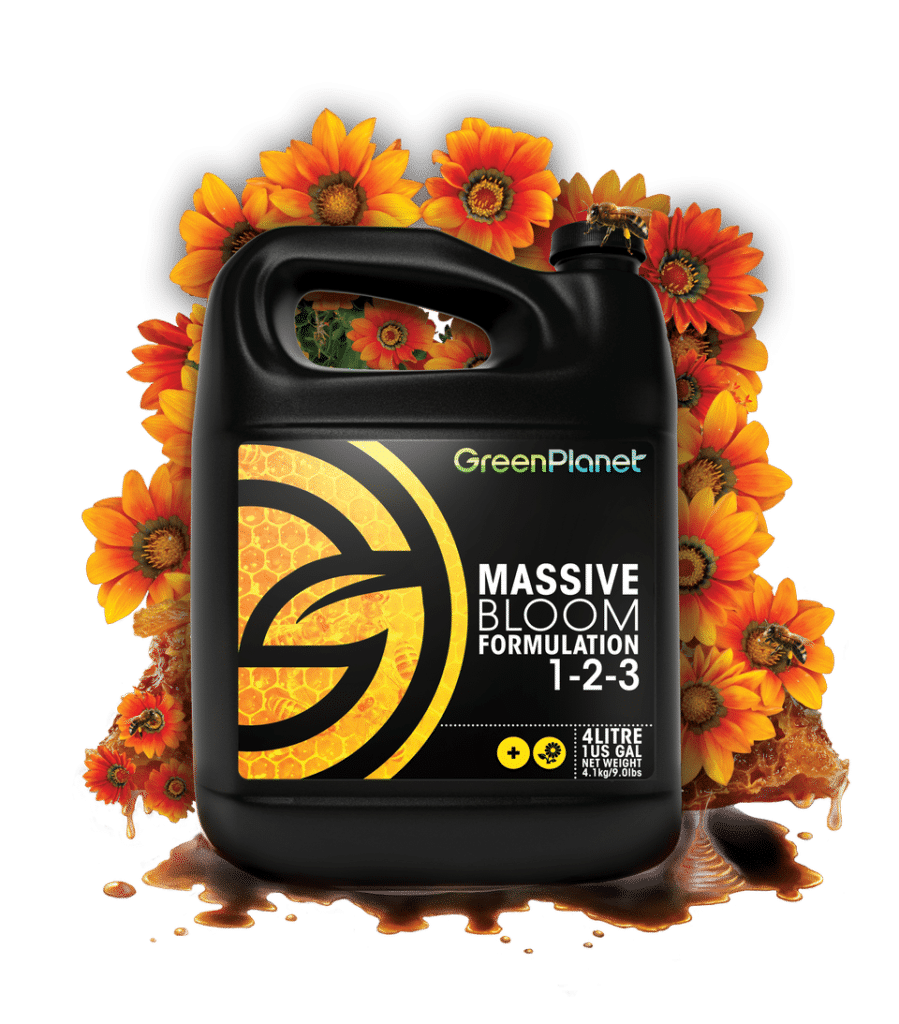 Dosage and Directions
Massive is recommended for use throughout the entirety of a plant's blooming cycle prior to the last two weeks of harvest. At its required dose, Massive is an aggressive product, on average clocking in with a mixing rate of 20mL per gallon, or, 5mL per litre. At this rate, Massive can raise the PPM of a nutrient solution by approximately 300-400 points; so, be sure to adequately adjust the mixing rate of your additional supplements, base nutrients, and additives, to compensate for the boost in salt-content provided by Massive.
Check out our Resource Centre for more product information
---
What are Additive Nutrients?

An additive nutrient, or nutrient supplement, can be described as any plant food product that seeks to enhance natural patterns of development. Unlike base nutrients, which are designed to progress and maintain healthy patterns of growth and bloom, additive nutrients and supplements aim to promote specific actions, whether it be the

Why Testing the pH of Your Runoff Can Save Your Crop

If you've recently noticed some leaf discoloration, mutation, or poor growth, it's quite likely an inadequate pH range is the culprit behind these issues. pH is among the most important factors in the garden. But to understand it, we must first look at the basic biological functions of plants. In total,

What's the Difference Between Dry and Liquid Fertilizer?

Unfortunately, not all fertilizers are created equal. That's not to say that one product or feed program won't perform as advertised, but as we've learned from experience, there are a mountain of factors that go into producing a bountiful harvest: plant genetics, environmental controls and growing systems usually trump the list